<< Back to main
Spring CSA Newsletter Week 5
Posted 3/6/2017 10:43am by Caroline Cicatko.
Check Out What's In Your Share
Traditional Regular Share~
Baby Carrots, Collards, Beets, Peach Cider, Yellow Onions
Traditional Large Share~
Baby Carrots, Collards, Beets, Peach Cider, Yellow Onions, Leeks, Baby Potatoes, Dried Garlic
Item of the Week: Baby Carrots
Carrots are root vegetables that are crunchy, tasty and highly nutritious. They are a weight loss friendly food and have been linked to lower cholesterol levels and improve eye health. Carrots are found in a wide variety of colors including yellow, purple, white, red, and the traditional orange we commonly see. One medium raw carrot contains a mere 25 calories and 4 grams of carbs.
Baby carrots are a term used for small, immature carrots. There are two types of baby carrots. Those that are whole carrots that are grown naturally small, in other words carrots that are harvested before they grow to be large. On the other hand there are carrots that are machine cut to be small.
Don't Let Your Produce Spoil, Here's Some Simple Storage Tips
Baby Carrots

: Cut all greens off the tops of carrots and store in a container with cold water in the fridge to keep the crisp taste.
Collards

: Refrigerate in a plastic bag, do not wash greens until ready to use.
Beets

: The root bulb should be stored in a bag in the fridge and will last for 7-10 days.
Peach Cider:

Refrigerate once opened

Yellow Onions

: Store in a cool dark place, such as in a basket in the pantry or garage.
Leeks

: Fresh leeks should be stored unwashed and untrimmed in the refrigerator, where they will stay fresh for 1-2 weeks.
Baby Potatoes:

Store potatoes in a cool, well-ventilated place.
Dried Garlic:

Store in a cool, dark place.
Yummy Recipes for Your Fresh Produce
Collards Recipe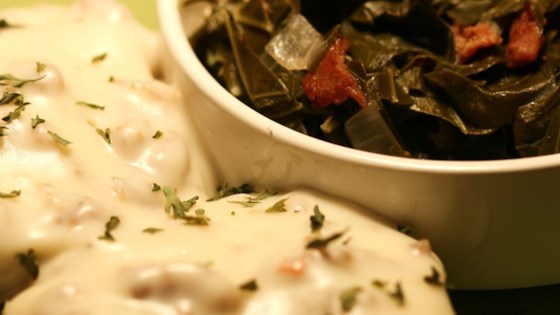 2 potatoes, peeled and cubed
3 bunches collard greens, stemmed and thinly sliced
4 slices bacon
1/2 onion, diced
1/2 cup red wine vinegar
Place potatoes in a large pot with enough water to cover. Bring to a boil over medium heat. Before the potatoes are finished, add the collards to the pot.

Place bacon in a deep skillet over medium-high heat. Cook until evenly browned, about 10 minutes. Remove bacon to paper towels to drain, and saute the onion in bacon grease until tender. Drain onions of grease, and add to the greens. Crumble in the bacon, and stir in the wine vinegar. Simmer over low heat until greens are tender, about 1 hour.
Beets on the Grill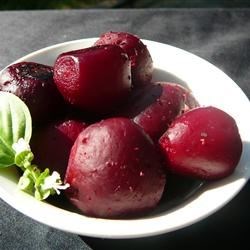 6 beets scrubbed
2 tablespoons butter
salt and pepper to taste
Preheat an outdoor grill for high heat.

Coat one side of a large piece of aluminum foil with cooking spray. Place beets and butter on foil; season with salt and pepper. Wrap foil over beets.

Place packet on the grill grate. Cook 30 minutes, or until beets are very tender. Allow beets to cool about 5 minutes before serving. You don't even need to peel to enjoy!
Sausage, Potato and Carrot Bake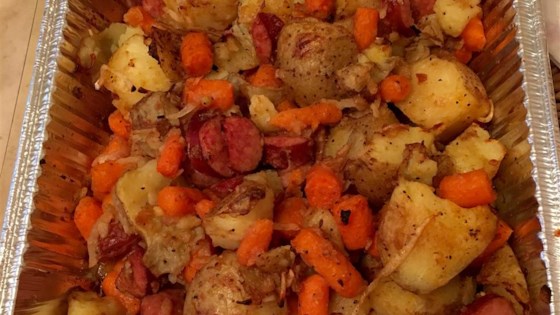 2 Kielbasa sausage rings, cut into 2 inch pieces
8 potatoes, peeled and quartered
1 onion, cut into chunks
8 ounces of baby carrots
4 cloves garlic, crushed
salt and ground black pepper to taste
3 tablespoons olive oil
Preheat oven to 350 degrees F (175 degrees C).

Mix Kielbasa, potatoes, onion, baby carrots, and garlic in a roasting pan; season with salt and pepper. Drizzle olive oil over the mixture; stir to coat. Cover the baking dish with aluminum foil.

Bake in preheated oven for 1 hour. Remove aluminum foil and bake until potatoes are completely cooked, about 30 minutes more.
Leek Dip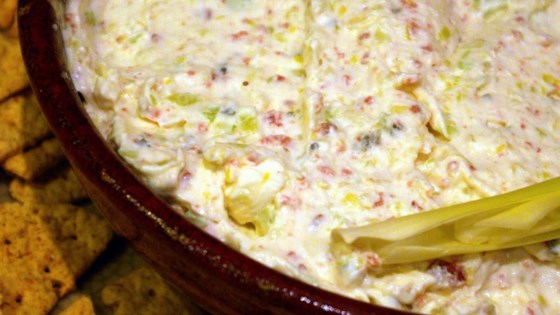 3/4 cups chopped leeks
1 (8 ounce) package cream cheese, softened
1 cup creamy salad dressing
1 tablespoon white vinegar
1 tablespoon white sugar
1/2 (12 ounce) jar bacon bits
salt and pepper to taste
In a medium bowl, mix together the leeks, cream cheese, creamy salad dressing, vinegar, sugar, bacon bits, salt and pepper. Refrigerate 2 to 3 hours, until well chilled.