<< Back to main
Spring CSA Newsletter Week 4
Posted 2/27/2017 1:21pm by Caroline Cicatko.
Check Out What's In Your Share
Traditional Regular Share~
Butternut Squash, Turnips, Cameo Apples, Curly Kale, White Peel Sweet Potatoes
Traditional Large Share~
Butternut Squash, Turnips, Cameo Apples, Curly Kale, White Peel Sweet Potatoes, Red Radish, Apple or Pumpkin Butter
Item of the Week: White Peel Sweet Potatoes
White sweet potatoes are just one of the many varieties of sweet potatoes. Sweet potatoes are nutritious, high in fiber, very filling and have a delicious sweet taste. They can be consumed in a variety of ways, but commonly we see them either boiled or baked. They are mainly composed of carbs, which come from starch, but still contain high amounts of fiber. Sweet potatoes are an excellent source of vitamin A, vitamin C and potassium.
White sweet potatoes are very similar in taste to those of other varieties and can be prepared and stored the same way.
Don't Let Your Produce Spoil, Here's Some Simple Storage Tips
Butternut Squash

: Once cut it will last for up to 4 days in the refrigerator. Make sure it is covered, dealing in a closed container.
Turnips

: Refrigerate the roots unwashed in a plastic bag. They should keep anywhere from 1 to 2 weeks in the fridge.
Cameo Apples

: Store apples in a cool and dry place.
Curly Kale

: Refrigerate in a plastic bag, do not wash until ready to use.
White Peel Sweet Potatoes

: Avoid storing in the refrigerator, instead store in a cool and dry place.
Red Radishes

: Put unwashed radishes with their greens removed in a plastic zip-lock baggie with a slightly damp paper towel at the bottom. Place the bag in the fridge, will last for several weeks.
Yummy Recipes for Your Fresh Produce
Ham and Butternut Squash Spaghetti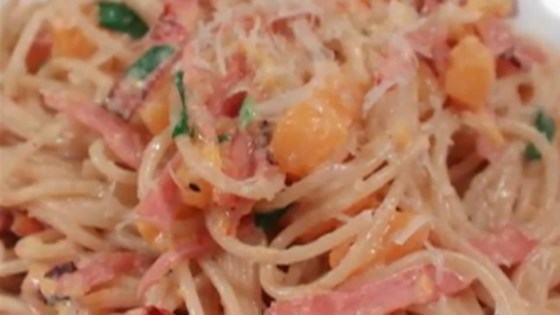 2 tablespoons olive oil
4 ounces smoked ham, thinly sliced
3 cloves garlic, thinly sliced
1 1/2 cups chicken broth
3 cups peeled, seeded and diced butternut squash
1 pinch crushed red pepper flakes
salt to taste
1 teaspoon ground black pepper to taste
1 cup mascarpone cheese
1 tablespoon parsley
14 ounces spaghetti
grated parmesan cheese
Heat olive oil over medium heat in a large skillet. Stir in ham and cook until the edges are slightly browned, about 3 minutes.

Stir in garlic; cook until fragrant and edges are barely golden, about 1 minute.

Pour chicken broth over ham and garlic; bring to a simmer. Stir in butternut squash, red pepper flakes, and salt. Cook until squash is tender, about 15 minutes. Stir in black pepper and reduce heat to low.

Gently stir mascarpone cheese into squash mixture until completely incorporated. Stir in Italian parsley. Remove from heat and cover.

Bring a large pot of lightly salted water to a boil. Cook spaghetti in the boiling water, stirring occasionally until cooked through but firm to the bite, about 12 minutes. Drain and return to pot.

Pour butternut-mascarpone sauce over spaghetti, stirring until combined. Sprinkle Parmigiano-Reggiano cheese over spaghetti and serve.
Caramelized Turnips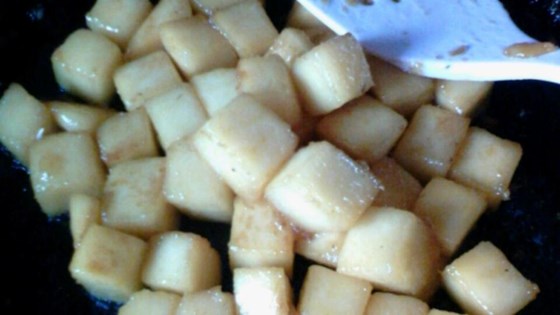 3 cups, diced and peeled turnips
1/4 cup water
1 cube chicken bouillon
1 tablespoon butter, more as needed
2 tablespoons white sugar
Place the turnips into a skillet with the water and chicken bouillon cube over medium heat, and simmer until the water has evaporated and the turnips are tender, about 15 minutes. Stir in the butter, let melt, and sprinkle on the sugar. Gently cook and stir the turnips until the butter and sugar cook into a brown, sticky coating on the turnips, about 10 minutes. Serve hot.
White Sweet Potato with Pork Stew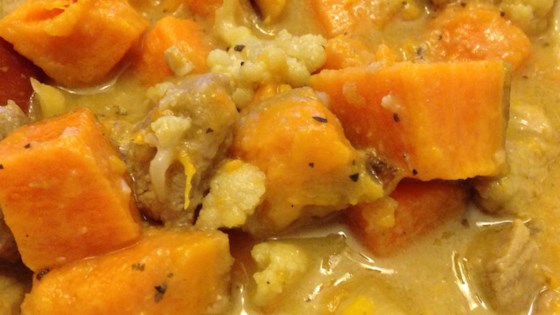 cooking spray
1/3 cup brown sugar
1/3 cup all-purpose flour
1/4 cup Dijon mustard
3 pounds pork loin, cut into 1 inch cubes
3 tablespoons olive oil
1 sweet onion, chopped
2 cloves garlic, minced
1 1/3 cup chicken broth
1 cup dry sherry
3 pounds white sweet potatoes, cut into 1 inch cubes
1/4 teaspoon ground black pepper
1/4 teaspoon dried crushed rosemary
1/4 teaspoon thyme
salt to taste
Preheat oven to 350 degrees F (175 degrees C). Spray a large casserole dish or Dutch oven with cooking spray.

Combine brown sugar and flour in a bowl. Place Dijon mustard in a separate bowl. Heat olive oil in a large skillet over medium heat. Coat pork cubes with Dijon mustard and toss in brown sugar mixture to coat. Brown coated pork cubes on all sides in hot olive oil, about 3 minutes per side. Transfer browned pork into prepared casserole dish, leaving oil in skillet.

Cook and stir onion and garlic in the hot skillet until onions are soft, about 5 minutes. Stir chicken broth, sherry, sweet potato cubes, black pepper, rosemary, thyme, and salt into onion; bring to a boil. Pour sweet potato mixture over pork and cover casserole dish.

Bake in the preheated oven for 50 minutes; uncover and bake until pork is no longer pink inside and sweet potato cubes are tender, about 20 more minutes.
Cheesy Kale Chips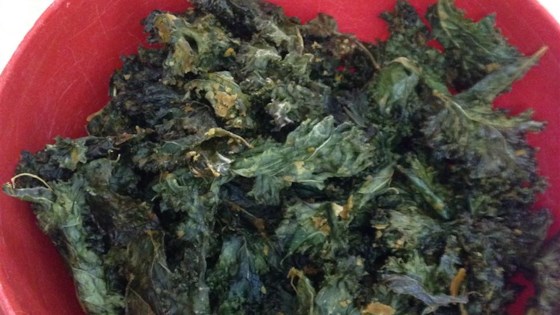 2 tablespoons extra virgin olive oil
1 bunch curly kale, torn
1/2 cup nutritional yeast
1/3 teaspoon salt
Preheat oven to 200 degrees F (95 degrees C).

Drizzle olive oil over the kale in a large bowl and sprinkle with the nutritional yeast and salt. Stir with your hands to coat kale.

Spread kale onto baking sheets.

Bake in preheated oven until kale begins to get slightly crisp; rotate racks and flip the chips, and continue baking until completely crisp, 45 to 60 minutes total. Make sure to keep an eye on them to make sure they don't burn; if you notice certain chips ready much sooner than others, take them out.