<< Back to main
Spring CSA Newsletter Week 2
Posted 2/13/2017 9:38am by Caroline Cicatko.
Check Out What's In Your Share
Traditional Regular Share~
Italian Kale, Leeks, Baby Hayman Sweet Potatoes, Winesap Apples, Dried Garlic
Traditional Large Share~
Italian Kale, Leeks, Baby Hayman Sweet Potatoes, Winesap Apples, Dried Garlic, Jar Good, Winter Squash
Item of the Week: Italian Kale
Italian kale produces a rich, grayish-green to deep green leaves that are usually crinkly in texture. Italian kale is chewier than swiss chard, sweeter than collard greens and has a milder flavor than peppery mustard greens. The leaves are elongated and more slender than other varieties of kale that we are used to seeing. Overall this green has a very sweet flavor.
Kale is very rich in Vitamin-A and K and is also a very rich source of minerals such as copper and iron. Nutrients in kale offer protection from vitamin A deficiency, osteoporosis, iron-deficiency anemia, and believed to protect from cardiovascular diseases and colon and prostate cancers.
Don't Let Your Produce Spoil, Here's Some Simple Storage Tips
Italian Kale

: Tightly wrap kale in a paper towel and seal in an air-tight bag. Do not wash the kale until you are ready to cook or use it because that will increase spoilage sooner.
Leeks

: Stored unwashed and untrimmed in the refrigerator, where they will keep fresh for 1-2 weeks Keeping them in loosely wrapped plastic will help them to retain moisture.
Baby Hayman Sweet Potatoes

: Store at room temperature in a pantry or dim lit area. Do not refrigerate raw sweet potatoes, they can alter the taste and flavor when cooking.
Winesap Apples

: Store apples in a cool dim light area such as a pantry just in a basket. You can wrap each apple individually in a piece of newspaper to help from spoiling.
Dried Garlic

: Stores well at room temperature for many months, as long as the container is airtight and tightly sealed.
Winter Squash

: Squash is best stored in a cool, dry, and dark place such as a pantry

Yummy Recipes for Your Fresh Produce
Roasted Vegetable Kale Soup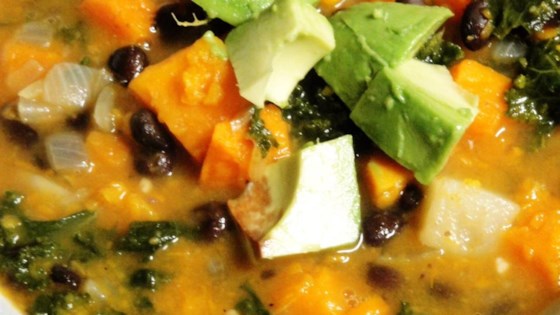 2 tablespoons olive oil, divided
3 carrots, peeled and quartered lengthwise
2 large tomatoes, quartered
1 large onion, cut into 8 wedges
1/2 small butternut squash (or other winter squash), peeled and seeded cut into chunks
1 Yukon gold potato
6 cloves garlic, unpeeled
salt and ground black pepper to taste
4 (4 ounce) links sweet Italian sausage
2 (4 ounce) links hot Italian sausage
6 1/4 cups vegetable broth, or more if needed
4 cups finely chopped kale leaves
3 sprigs thyme
1 bay leaf
1 (15 ounce) can garbanzo beans, rinsed and drained
1 (15 ounce) can kidney beans, rinsed and drained
Preheat oven to 400 degrees F (200 degrees C). Brush a jelly roll pan with a thin coat of olive oil.

Arrange carrots, tomatoes, onion, squash, potatoes, and garlic on the prepared pan. Drizzle remaining olive oil over the vegetables; season with salt and pepper. Turn the vegetables with a spoon to help coat evenly with the oil.

Roast in preheated oven until browned and tender, turning occasionally, 20 to 30 minutes. Set vegetables aside.

While the vegetables roast, place a large skillet over medium heat. Crumble sweet Italian sausage and hot Italian sausage into the skillet. Pour 1/4 cup vegetable broth over the sausage. Cook, breaking the sausage apart with a spoon as it cooks, until the sausage is cooked through and no longer pink, 7 to 9 minutes. Transfer sausage to a paper towel-lined plate to drain.

Cut squash and carrots into 1/2-inch pieces; set aside.

Peel garlic cloves; place in a blender with roasted tomatoes and onion and blend until smooth. Pour the mixture into a large pot.

Pour 1/2 cup broth onto the jelly roll pan. Scrape any browned bits from the surface of the pan with a wooden spoon or spatula; pour broth and browned bits into the pot with the blended tomato mixture.

Pour remaining vegetable broth into the pot. Add kale, thyme, and bay leaf to the mixture; bring to a boil. Reduce heat to medium-low and simmer until the kale is tender, about 30 minutes. Add sausage, carrots, potatoes, squash, garbanzo beans, and kidney beans to the soup; continue cooking until hot, about 10 minutes. Thin the soup with more vegetable broth as desired. Season with salt and black pepper. Discard thyme sprigs and bay leaf to serve.
Quiche with Kale, Tomato, and Leeks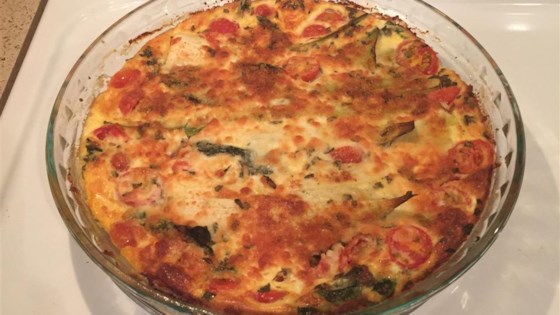 1 cup chopped kale
1 small leek, white and light green parts only, sliced
4 ounces halved cherry tomatoes
4 eggs
1 cup milk
4 ounces shredded Italian cheese blend
1 sprig rosemary, finely chopped
1 pinch sea salt
1/8 teaspoon ground black pepper
1 tablespoon grated Parmesan cheese
Preheat oven to 375 degrees F (190 degrees C). Grease an 8-inch pie dish.

Place a steamer insert into a saucepan and fill with water to just below the bottom of the steamer. Bring water to a boil. Add kale, cover, and steam until tender, 3 to 5 minutes. Remove from heat and place in prepared pie dish; add sliced leek and cherry tomatoes.

Beat eggs in a bowl; stir in milk and shredded Italian cheese blend, followed by rosemary, sea salt, and ground black pepper.

Pour the egg mixture into the pie dish. Stir gently until egg mixture and kale mixture are evenly combined.

Bake quiche in preheated oven until the center has set, about 30 minutes. Remove from oven and top with grated Parmesan. Continue baking until quiche is lightly browned on top, about 20 more minutes. Remove from oven and enjoy!
Apple Stuffed Chicken Breast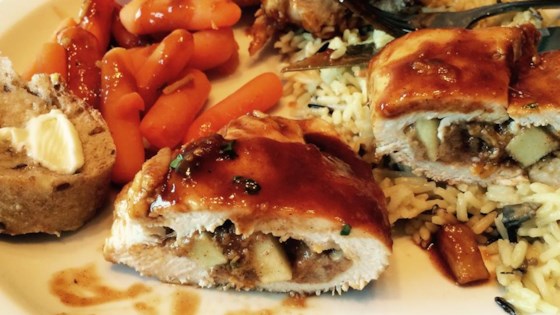 2 skinless, bone less chicken breasts
1/2 cup chopped apples
2 tablespoons shredded cheddar cheese
1 tablespoon Italian style bread crumbs
1 tablespoon butter
1/4 cup dry white wine
1/4 cup water
1 tablespoon water
1 1/2 teaspoons corn starch
1 tablespoon chopped fresh parsley, for garnish
Combine apple, cheese, and bread crumbs. Set aside.

Flatten chicken breasts between sheets of waxed paper to 1/4 inch thickness. Divide apple mixture between chicken breasts, and roll up each breast. Secure with toothpicks.

Melt butter or margarine in a 7 inch skillet over medium heat. Brown stuffed chicken breasts. Add wine and 1/4 cup water. Cover. Simmer for 15 to 20 minutes, or until chicken is no longer pink.

Transfer chicken to a serving platter. Combine 1 tablespoon water and cornstarch; stir into juices in pan. Cook and stir until thickened. Pour gravy over chicken, and garnish with parsley. Serve.
Chili Roasted Kale
4 cups kale, washed and stems removed
1 tablespoon extra virgin olive oil
1 tablespoon chili powder
1/2 teaspoon kosher salt
Preheat an oven to 400 degrees F (200 degrees C).

Place the kale into a large mixing bowl, and drizzle with the olive oil. Toss until evenly coated, then sprinkle with the chili powder and kosher salt, and toss again. Spread the seasoned kale onto a baking sheet.

Roast in the preheated oven for 5 minutes, then stir the kale, and continue roasting until the edges become brown and a little crispy, 5 to 8 minutes. Serve immediately.