<< Back to main
Spring CSA Newsletter Week 1
Posted 2/6/2017 9:35am by Caroline Cicatko.
Check Out What's In Your Share
Traditional Regular Share~
Baby Red Beets, Tatsoi, Spinach, Sweet Potatoes, Gold Rush/York Apples
Traditional Large Share~
Baby Red Beets, Tatsoi, Spinnach, Sweet Potatoes, Gold Rush/York Apples, Collards, and Red Russian Kale
Item of the Week: Tatsoi
Raw Tatsoi displays sweet yet nutty flavors and a mineral finish. Once cooked, it develops a warm earthiness similar to spinach.
Tatsoi is a very versatile green and may used similarly to spinach, raw, steamed, sauteed, braised or stir fried. It makes an excellent accompaniment to other salad greens such as spinach, arugula, watercress, pea tendrils and mizuna. Pair tatsoi with ingredients rich in umami such as scallops, mushrooms, seaweed, sesame and braised meats. Fermented ingredients such as fish sauce, soy sauce and vinegars are also complimentary matches.
Don't Let Your Produce Spoil, Here's Some Simple Storage Tips
Red Beets

: Store in a plastic bag in the refrigerator, do not wash before refrigerating.
Tatsoi

: Wrap the leaves in a damp paper towel and store them in a plastic bag in the refrigerator. These will only last for about 3-5 days.
Spinach

: Refrigerate in a plastic bag, do not wash the leaves until they are ready to use.
Sweet Potatoes

: Store at room temperature in a pantry or dim lit area. Do not refrigerate raw sweet potatoes, they can alter the taste and flavor when cooking.
Gold Rush and York Apples

: Place apples in a basket or box for storage. To maximize how long they will last wrap each apple individually in newspaper, this will help if one goes bad to not affect the other apples. Store in a cool area such as a garage.
Collards

: Refrigerate in a plastic bag, do not wash until ready to use.
Red Russian Kale

: Refrigerate in a tightly sealed plastic bag.
Yummy Recipes for Your Fresh Produce
Ginger Beef Stir Fry
1 cup Jasmine Rice
8 Ounces Tatsoi
3 Scallions
2 cloves Garlic
1 bunch Thai basil
1 small piece of ginger
10 ounces top round steak
2 tablespoons soy sauce
1/4 cup hoisin sauce
1. In a small pot, combine the rice, 2 cups of water, and a big pinch of salt. Heat to boiling on high, then cover and reduce the heat to low. Simmer 15 to 20 minutes, or until the liquid is absorbed and the rice is cooked through. Fluff the finished rice with a fork.
2. While the rice cooks, wash and dry the fresh produce. Cut the tatsoi into bite-sized pieces. Slice the scallions. Peel and roughly chop the garlic. Peel and mince the ginger. Pick the Thai basil leaves off the stems. Thinly slice the steak.
3. In a large pan, heat some oil on high until hot. Add the sliced beef and season with salt and pepper. Cook 2 to 3 minutes, or until browned, stirring occasionally. Transfer the stir-fried beef to a plate, leaving behind any juices in the pan.
4. In the same pan used for the beef, add a little more oil and heat it on medium-high. Add the garlic and ginger; cook for about 30 seconds, or until fragrant. Stir in the tatsoi, soy sauce, half of the hoisin sauce, and half the scallions. Cook 2 to 4 minutes, or until the vegetables are softened and coated in the sauce. Add the stir-fried beef back to the pan and cook until heated through and coated in the sauce. Remove from heat.
5. Divide the rice between 2 plates. Top each with the beef and tatsoi stir-fry. Garnish each with the Thai basil, remaining hoisin sauce, and remaining scallions. Enjoy!
Stuffed Beets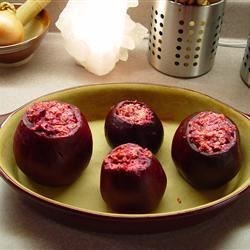 4 beets
1 (12 ounce) package bacon
1/2 cup shredded Gruyere cheese
1/4 cup grated Parmesan cheese
1/4 cup sour cream
2 tablespoons chopped garlic
1 teaspoon garlic salt
ground black pepper to taste
Place the beets into a large pot and cover with water. Bring to a boil over high heat, then reduce heat to medium-low, cover, and simmer until tender and skin slides off, about 20 minutes. Drain and allow to cool, then remove skin, and cut off roots and stems so that both ends are flat. Scoop out the inside of the beets using a melon baller or spoon, leaving about 1/4-inch on the sides and bottom. Set the hollowed beet cups aside.

While the beets are cooking, place the bacon in a large, deep skillet, and cook over medium-high heat, turning occasionally, until evenly browned, about 10 minutes. Drain the bacon slices on a paper towel-lined plate, then crumble.

Preheat an oven to 350 degrees F (175 degrees C).

Dice the remaining chunks of beets, and place in a large bowl. Mix in the Gruyere cheese, Parmesan cheese, sour cream, crumbled bacon, garlic, garlic salt, and pepper until well combined. Gently fill each beet cup with the cheese mixture. Place filled beets in a shallow baking dish.

Bake in the preheated oven until the cheese melts and is heated through, 20 to 30 minutes.
Spicy South of the Border Spinach Cheese Dip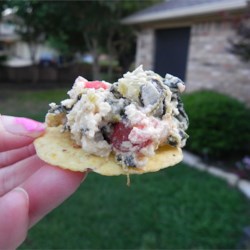 1 onion, chopped
2 tablespoons vegetable oil
1 (14.5 ounce) can whole peeled tomatoes, drained and chopped
1 (4 ounce) can diced green chillies, drained
10 ounces fresh chopped spinach

10 ounces shredded Monterey Jack Cheese
1 (8 ounce) package cream cheese, softened
1 cup half-and-half cream
1 tablespoon red wine vinegar
salt and pepper to taste
Preheat oven to 400 degrees F (200 degrees C).

Saute onion in skillet over medium heat in oil until softened, about 4 minutes. Stir in tomatoes and chiles, let cook 2 minutes.

Transfer the mixture to a large bowl and stir in spinach, cheese, cream cheese, half and half, and vinegar. Season with salt and pepper to taste. Spoon mixture into shallow baking dish like a 9 inch quiche dish or pie plate.

Bake in the preheated oven until the dip is bubbly and the top is light brown, about 35 minutes.
Sweet Potato Burritos
1 tablespoon vegetable oil
1 onion, chopped
4 cloves garlic, minced
6 cups canned kidney beans, drained
2 cups water
3 tablespoons chill powder
4 teaspoons prepared mustard
2 teaspoons ground cumin
1 pinch cayenne pepper, or more to taste
3 tablespoons soy sauce
4 cups mashed cooked sweet potatoes
12 (10 inch) tortillas, warmed
8 ounces shredded cheddar cheese
Preheat oven to 350 degrees F (175 degrees C).

Heat oil in a medium skillet and saute onion and garlic until soft. Mash beans into the onion mixture. Gradually stir in water; heat until warm, 2 to 3 minutes. Remove from heat and stir in the soy sauce, chili powder, mustard, cumin, and cayenne pepper.

Divide bean mixture and mashed sweet potatoes evenly between the tortillas; top with cheese. Fold tortillas burrito-style around the fillings and place on a baking sheet.

Bake in the preheated oven until warmed through, about 12 minutes.